Introduction: The module carrier is a solution for fragile devices. It is designed to protect delicate parts during transport, processing, inspecting and assembly.
The unique module carrier's structure can be customized to specific shape to hold the devices exactly and safely.
Listed below are just examples, we can make shapes for your particular requirement! i.e 2", 3" wafers, C-mount, 14-pin butterfly package, HHI package, etc.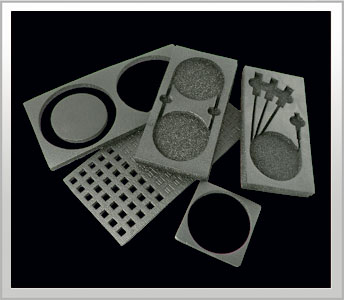 IXPE Conductive Foam has super conductivity to eliminate electrostatic permanently. Non-contaminating , non-corrosive and non-sloughing, low piercing force can ensure fragile and delicate parts to be inserted safely, cleanly and easily. IXPE foam is an ideal packing material for crystal, opto-electronic components, optical parts, glass, IC, PCB and delicate devices.
TYPE:HP4-5510
Outside Dimension: 55mm x 55mm x 10mm
Inside Dimension: 51mm x 51mm x 7.0mm
Cover: Transparent
Body: Black
TYPE:HP4-8512
Outside Dimension: 85mm x 85mm x 12mm
Inside Dimension: 81mm x 81mm x 8.5mm
Cover: Transparent
Body: Black

TYPE:HP4-1306
Outside Dimension: 130mm x 60mm x 36mm
Inside Dimension: 127mm x 57mm x 33mm
Cover: Transparent
Body: Black
TYPE:HP4-12033 for HHL type of package
Dimension: 116mm x 116mm x 30mm
Cover: Transparent
Body: Black

TYPE:HP4-240-BTF for 14-PIN butterfly package
Dimension: 240mm x 120mm x 25mm
Inside Dimension: 235mm x 115mm x 20mm
Cover: Transparent
Body: Black
TYPE:HP4-240-105
Outside Dimension: 240mm x 120mm x 25mm
Inside Dimension: 235mm x 115mm x 20mm
Cover: Transparent
Body: Black

TYPE:HP4-240H-2
Outside Dimension: 240mm x 120mm x 25mm
(9.46" x 4.73" x 0.99")
Inside Dimension: 235mm x 115mm x 20mm
(9.26" x 4.53" x 0.79")
Cover: Transparent
Body: Black
TYPE:HP4-240H-96
Outside Dimension: 240mm x 120mm x 25mm
(9.46" x 4.73" x 0.99")
Inside Dimension: 235mm x 115mm x 20mm
(9.26" x 4.53" x 0.79")
Cover: Transparent
Body: Black

Customised anti-static carriers: HP4 - ESD

High static shielding performance from special shielding layer

Physical protection

No shielding bag needed

Fits any size component

Flat-packaged static-dissipative cardboard boxes with foam inserts

Typical dimension: 275mm x 174mm x 50 mm

Delicate Rod Packing


TYPE: HP4-rod

Safe, flexible and easy operation, this innovative packing is designed for fragile rods and devices of rod shape. The patented structure can protect delicate parts during transport, processing, inspecting and assembly

This glove case is designed for double protection of smart laser carrying box
It made by paper box ( outside ) with plastic form insert
The box colour is optional
Customized logo printing on box is available upon request at extra cost with min. order



TYPE: HP4-19038-T/BK
Overall size: 190mm x 38mm x 22mm
Max. length of rod : 160mm
Box Colour : Transparent/Black

| | | |
| --- | --- | --- |
| Part Number | Holding Rod | Overall Size |
| SMY-D3 | Dia. 3mm | |
| SMY-D4 | Dia. 4mm | L=18mm |
| SMY-D5 | Dia. 5mm | W=8mm |
| SMY-D6 | Dia. 6mm | H=17.5mm |
| SMY-D7 | Dia. 7mm | |
| SMY-D8 | Dia. 8mm | |


Customised Examples:

TYPE:HP8512
Dimension: 81mm x 81mm (3.19" x 3.19")

TYPE:HP240
Dimension: 235mm X 115mm (9.26" x 4.53")
D=84mm (3.3") d=76.2mm (3")

TYPE:HP240
Dimension: 235mm x 115mm (

9.26" x 4.53"

)
Inside Dimension: 26mm x 7mm (1" x 0.276")

TYPE:HP8512
Dimension:

85mm x 85mm (3.35" x 3.35")


Inside Dimension: 81mm x 81mm (

3.19" x 3.19"

)